Sorry this is just a list but please bear with me as I am also in the midst of trying to clear out and sell my house. Can you spell overwhelmed, Items will continue to be added upto the sale dates.
Thanks Penny



Sewing Machines


1. Brother Ult2002D Sewing/Embroidery Machine. His name is Walt. When this machine was completely refurbished by Brother they replaced the Mother board with a regular ULT2001 one so it can no longer do the Disney stuff. Since I don't have kids and the dogs did not care I didn't realize this until I was checking it out to sell!!
Purchased in 2002 a real workhorse. On Ebay you can purchase an item to replace the Floppy drive with a USB port instead for about 100-120.


Compare to 2003D on sale at Allbrands for sale for $2,999 Next year model

Mine comes with all original items plus many extras.
Extra hoops, fabric cover, 3 Hoop-it-all Giant repositional hoop (with table (originally over $400)) You would need Buzz Edit or Embriliance to create designs for these hoops Sew Steady Table
Sale Price $1500 Local pick up preferred





Brother Pacesetter PE-300s.
This is an embroidery sewing machine combine. Comes with 3 hoops. 2 4x4 and a repositional 4x6.75 hoop
Works well last time I used it.
Sale Price $125

Brother PC-8500
This is an embroidery sewing machine combine. Comes with the original feet. Max sewing area is 5x7. Comes with some extras, two 4x4 hoops, one 5x7 hoop, one repositional hoop, one Hoop-it-all repositional hoop with table supports You will need Buzz edit or Embrilliance to create designs easily for this. only card reader input.
Sale Price $250

Multiple Embroidery hoops for Brother/Babylock machines.
Over the years I have gathered and used multiple machines and often bought extra hoops, and some third party hoops to allow me to do more. See the list below
Brother hoops for older machines and smaller embroidery machines PE 400 and PE600. These have the two Pin mechanism shown below.




Brother multi-positionable hoops for the 4x4 sewing area embroidery machines. Sews up to 4x6.75 inches. Uses pegs to move hoops. Must have software that supports producing designs for these hoops, such as PE-Design, Palette, Embrilliance and Buzz Edit 3.


Sale Price $15
Brother multi-posionable hoops for the 5x7 sewing area embroidery machines. Sews up to 5x12 inches. Uses pegs to move hoops. Must have software that supports producing designs for these hoops, such as PE-Design, Palette, Embrilliance and Buzz Edit 3.


Sale Price $40 compares at 100 on Amazon

New Hoop-It-All Mini-Giant for the smaller 4x4 embroidery machines such as PE-300 and PE-400 repositional hoop sews up approximately 4x13 inches.


In box with everything includes support table. You would need Buzz Edit or Embriliance to create designs for these hoops
Sales Price $50

Hoop-It-All HAT Hoop for the smaller 4x4 embroidery machines such as PE-300 and PE-400 repositional hoop sews up approximately 4x4 inches.


Used Sales Price $20

Sewing Tables/Bookcases/Furniture
1. Joann's drop leaf cutting table
Standard drop leaf table on wheels. Not adjustable. Cutting surface approximately 59"x36".
Sales Price $50 local pick up preferred

2. IKEA Billy/OXBERG Bookcase with glass doors

Currently 229
Currently $229. Size 31.5 w x 11 3/4 d x 79.5 H. Birch Frame and shelf with silver doors with smoked glass doors. Assembled.
Sale Price $100. Local Pick up preferred

3. IKEA Black Kallax wall unit currently 149.99.
4x4 cubbies, 57 7/8 w x 57 7/8 H
Great storage. Assembled. No storage items included


Sale Price 75. Heavy. Local pick up preferred

4. IKEA White Kallax wall unit currently 249.99.
5x5 cubbies, 71 5/8 w x 71 5/8 H
Great storage. Assembled No storage items icluded


Sale Price 100. Heavy. Local pick up preferred

5. Thread notion storage. Metal Anchor shop sets of 12 drawers.
Great for storing thread, sequins, buttons or lots of other notions. 12 drawers. Size 22 W x 14.5 D x 32 H
Actually 2 sets of drawers. Could do with a repaint.


No items included.
Sale price $25 will need help to move local pick up preferred.

Set of white drawers


there are two. Sales Price $30 each.


Interfacing/Stabilizers
1. Dream Weave Fusible Interfacing by Floriani
For those of us who remember Touch of Gold and cried when you could no longer get it. This is the closest I have found. It is wonderful for working with fine fabrics such as silk as it really doesn't alter the drape of the fabric. It is also great as a stabilizer for light weight fabric and is recommended by Jenny Haskins. It also makes a great soft touch cover on the back of embroidery for sensitive skins. I was able to purchase it at a 60 inch wide width so is great for garment construction.
Compare to Dream weave from Embroidery.com for 3 yardsx30inches for 33.99. So comparable to $22 per yard at 60 inches wide.
Sales price $60 for 5yds by 60 inch.
or $30 for 2.5 yards by 60 inch.

2. Vilene water soluble Stabilizer
I love this stuff and used it for creating all of my thread lace garments! You have no Idea how much I go through. Once again I am selling 3 yards by 60 inches. I often just cut the hoop height plus room for hooping then stitch and then repositition to do the next hooping. Saves so much waste than just cutting to actual hoop size. Ask me how I know!

Compare to Vilene 30 inch by 10 yards from allstitch for about $31. So comparable to $6 per yard at 60 inches wide.
Sale price $15 3ydsx 60 inch wide.

2. Soft weight fusible interfacing
I love this stuff for light weight fabrics! It is very similar to Peggy Sagers Tricot Fusible interfacing. Once again I am selling 3 yards by 60 inches. Great for garment construction.

Compare to Peggy Sager Tricot 60inch wide by 5 yards for $27.50. So comparable to $5.5 per yard at 60 inches wide.
Sale price $12 3ydsx 60 inch wide.

Books
My last book, Work smarter not Harder written For PE-Design Next or Palette version 9. Comes with an email link to download Version 10 Addendum and New features of Version 11. Both PDFs
Originally $99 then reduced to $49
Sales price $10 plus $7 media mail.

Multiple quilting books, Sewing books , Magazines, etc.

Threads
Brother 10 thread stand. Listed on Amazon for $69.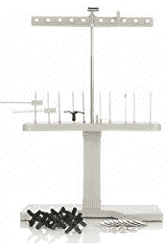 Stands nicely behind the sewing machine
Sale price $30

Sulky 42 30 wt Blendables Dream Package in Slimline storage box.
Only a few colors tried about 5. Most never tried
Regularly $220
Sale Price $120

New Maderia Polyneon Variegated 500 yd cones.


Various Colors. 15 cones in total.
Sales price $10 per cone

New Valdani 1080yd 35wt Long Staple Cotton Hand dyed variegated thread. 18 spools


Retails about $10 per spool
Sales Price $7.50 per spool

YLI 2500 yds Variegated Machine Quilting Thread. Compare to Amazon price of $19.95.


Sales Price $10 per cone

Better Bobbin by Dritz. Bobbin winder. New in box.
Wind your bobbins independent of your machine.
Sales price $10

More thread for sale not listed yet

Angelina
Angelina Sample packs was $27.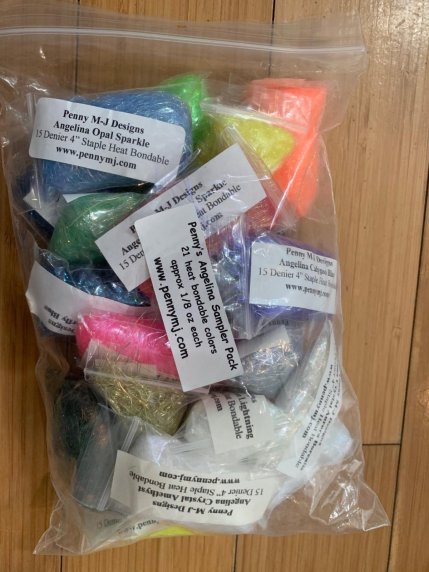 21 small packets (approx 1/8 oz) of each heat bondable Angelina colors. Perfect for butterfly wings, fish bellies, etc. Go to the gallery to see my Angelina garments

Sales price $15

Quilting Items
B-Line quilting frame. Currently set up on an 8ft long hope with 3 8ft metal poles, 6foot 6" leaders, mirror tiles so you can see the underside. There is a PCQ robot there that I use as the glider for the machine.
As is Sales price $75

Slice Fabrique Cutting system.
This is ideal for someone who wants the precision of a cutting system without having to use a computer and software. This has the cutter, tools, 9 design cards (typically 20-50 each), Carrying case, cutting table, extra blades.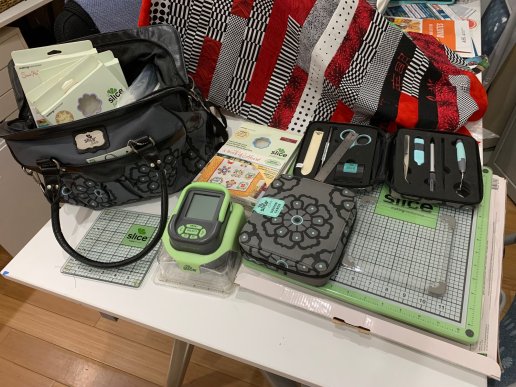 Compare to price on Allbrands $149
with no design cards, extra cutting table,carry case, or tools.
Sales Price $150


Irons and Steamers

IRONS/Steamers
1. Jiffy Steamer O221 J-2 Original


Original Lists new 180-270.
Sale price $75

2. ConSew Gravity Feed Iron CES300
List new 100-200


Sale price $75
Rowenta Powerglide 2
Lists 30-50


Sale price $10

Electrical Items
Sales Price $250 includes an additional Lmp (100 value
Epson Projector Plus U4-131 with replacement lamp
This is a lightweight projector, but unfortunately requires a serial port computer to work. Worked the last time I used it. Has a replacement light (value over 100) comes with case, and all cords remote and manual.
Sales price for $75.
Printer Epson Workforce 600 color All in one wireless printer

The Epson WorkForce 600 Color All-in-one Printer is ideal for the home office or small business with wi-fi and ethernet networking capability built right into the unit, and the ability to produce laser quality color and black & white prints. Plus it can produce stand alone copies without a PC, provides fax functions, scans documents and photos for archiving or reproduction, and even function as a stand-alone photo center with the ability to print pictures from memory cards or PictBride enabled devices. Furthermore, by using Epson's exclusive DURABrite Ultra inks, your prints will not only dry instantly, they'll last for generations, and even tolerate the use of a highlighter pen without smudging - a problem found with most inkjet printers. Even with all of these great features the, WorkForce 600 uses up to three times less energy than a typical laser printer - saving you money while helping to save the environment.
This is a nice printer, copier, scanner and fax machine
Sales price for $120. With one set of unopened replacement cartridges (not DURABrite Ultra ink)

Printer Cartridges
Epson cartridges for multiple Epson printers Third party manufacturer. All in unopened boxes.


The printers it will work with are listed in the picture above. There are 7 Black, 3 Magenta, 3 Yellow, 2 Cyan (15 total)
Sale price $40 for all

Original Epson Ink Cartridges


See picture for printer model numbers. All in original boxes or wrappers.
4 light pink,4 black, 2 yellow, 4 cyan. 14 total.
Sales Price $40



Fabric
Lots of fabric, Cotton, silk dupioni, knits, others
Sale price $5 per yard.

Notions

Odds and Sods

House Furniture
Black Schumann Baby Grand Piano with Player Piano set up. Like new Plays well. Will need to be tuned when moved. Player part uses old technology Floppy disks but still works. Comes with all floppies I have.


Buyer is responsible for moving. in the past I have used Piano Movers of Texas they know how to move and will work with you to fit it in when local in the area if not in a hurry. I thought they were very reasonably priced for a local move.

https://www.google.com/aclk?sa=l&ai=DChcSEwjp0JTmi_n6AhWUFdQBHSd8DOgYABAAGgJvYQ&sig=AOD64_33-7JopF_7sFEkttkztNlkaLz95g&q&adurl&ved=2ahUKEwjVpovmi_n6AhXbomoFHXdQA6MQ0Qx6BAgFEAE

Please don't try to move yourself or use a local mover as they really do not know how to handle pianos.
Sales Price $4000.

Thomasville solid wood Dining room set, Table + 8 Chairs, China cabinet with pull out serving drawer, Sideboard with pull out serving drawer, and buffet with flip top and wine storage.


In very nice condition. Table has two 16 inch leaves that can be removed to adjust table size from 99.5 inches to 83.5 to 67.5. Table top should be refinished.
These are very well made pieces and will last a lifetime.
Sales Price TBD

Queens Size Bedroom suite by Thomasville.


Very nice well made solid wood bedroom suite queen size. Comes with Headboard set-up with mirrors and overhead lights built in and electrical outlets.Two large closets on either side. with pull out nightstands. Also comes with a tallboy and chest with jewelry storage on top.
Sales Price TBD

Ikea Office Furniture



Two side desks and a corner unit. Two shelves that sit on the side desks. Nice filing cabinet with 4 drawers. Lockable 4 drawer set on wheels. Fits under desk. Lockable 2 drawer set with file storage on wheels. Fits under desk.
Sales Price TBD